Getting visitors to your website goes hand in hand with increasing conversions. And since most purchase decisions today start with a search query, London SEO Agency is the best strategy for your small business.
In this comprehensive guide, you'll learn how to optimise your business for local search.
By the end of it, you'll have a clear image of how you can dominate your local market and grow your profits.
What is Local SEO?
Local SEO allows businesses to sell their services by targeting local customers. It's the subset of global SEO that focuses on dominating smaller areas on search engines such as Google and Bing.
Local small businesses that target global customers waste a lot of their time on the wrong clients.
For example, a restaurant in London shouldn't expect to attract local customers in New York. The owner should rank locally instead and attract more customers with high buyer intent.
Some of the businesses that make the most out of local SEO are brick-and-mortar businesses.
Why is Local SEO Important for Your Business?
According to Google, 4 in 5 customers look for local information on search engines. And 88% of local mobile searches end with a store visit or call to the local business within the following 24 hours.
Those stats may help you understand why local SEO has gained so much popularity.
But at the same time, they'll leave you wondering—
What makes local SEO so successful? And how can I use it to grow my business locally?
Here are three reasons that make local SEO so successful:

1- Local customers come with higher buyer intent
When potential customers search for businesses in their area, they're often ready to buy.
They're aware that a solution exists, but they need your service to overcome their challenges.
That makes them ready to work with you as soon as they trust you.
2- Local markets have lower competition
Google breaks down the map into smaller geographical areas. It then presents different results to different customers depending on the location.
That way, it gives smaller businesses a fair chance to compete and dominate smaller markets. Learn how to practice local SEO right, and you'll no longer have to worry about competition. As long as you provide high-quality service, your business will always be thriving.
3- Local SEO is budget-friendly
Compared to most alternatives with similar results, local SEO is the most budget friendly.
Smaller businesses no longer have to spend thousands of dollars on marketing. Nor do they have to launch dozens of marketing campaigns to attract local customers.
Still, that doesn't mean it's easy.
Local SEO solves all those problems, and it's an on-budget solution for lots of businesses. But at the same time, it requires lots of work, quality service, and honesty with your clients.

How Does Local SEO Work?
Most ranking factors in global SEO still apply for local SEO.
But on top of that, Google takes into consideration three important ranking factors:
Relevance
Google needs to be sure that your business is relevant to the search phrase.
Proximity
Your business will only appear to nearby customers who may need your services.
Prominence
The authority of your business matters a lot when it comes to local SEO.
There aren't many factors that potential customers consider besides your ratings, customer reviews, and popularity in the area.

How to Improve Your Local SEO
Now that you know what local SEO is and why it's crucial to your business — we'll dig into some in-depth knowledge.
In the rest of this guide, we'll share with you some local SEO practices to optimise your business.
If you implement those techniques correctly, you'll guarantee the success of your business locally in just a few months.
Ready?
1- Google My Business
Google My Business (GMB) is a free tool that helps businesses engage with local customers. It's Google's way of making sure that companies providing top-notch services are appropriately rewarded.
That's why serving our clients best and helping them grow has been our top priority since our early days.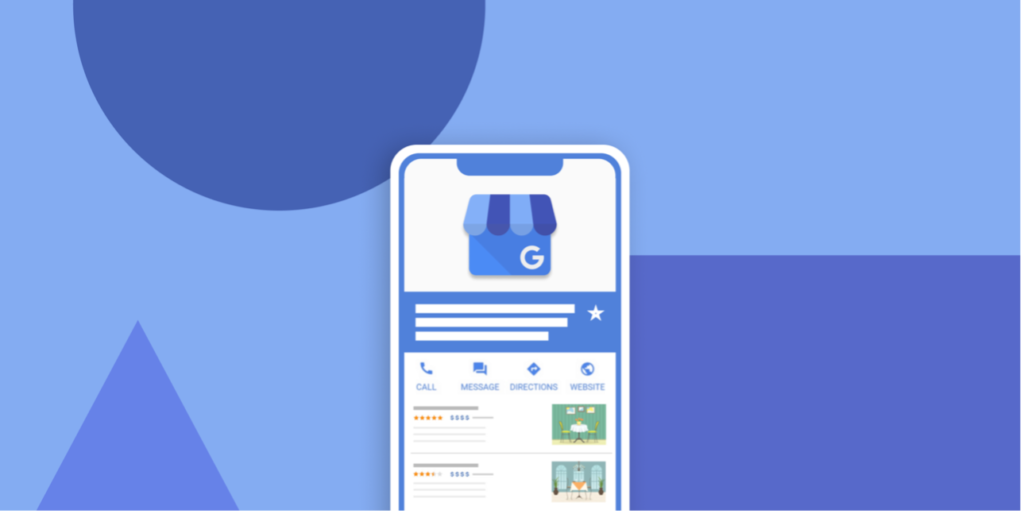 All the steps you'll take next won't matter if you don't have a verified GMB account.
Companies that register with Google My Business get to:
• Rank on Google Maps and the local map pack
• Have higher rankings if their business is well optimised for local SEO
• Appear on the local Knowledge Panel on the top right
To set up a Google My Business account, all you have to do is follow these instructions: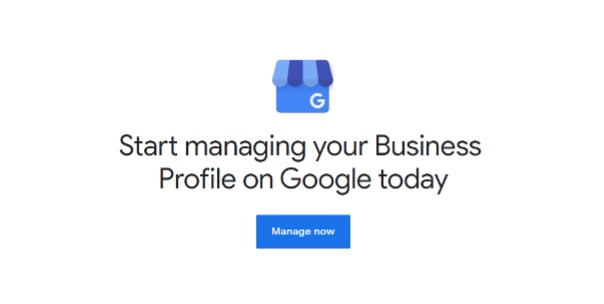 Then continue with the following steps.
1- Enter your business name
You can either create a new business or link an existing one. Google will automatically search for your business and tell you if it exists.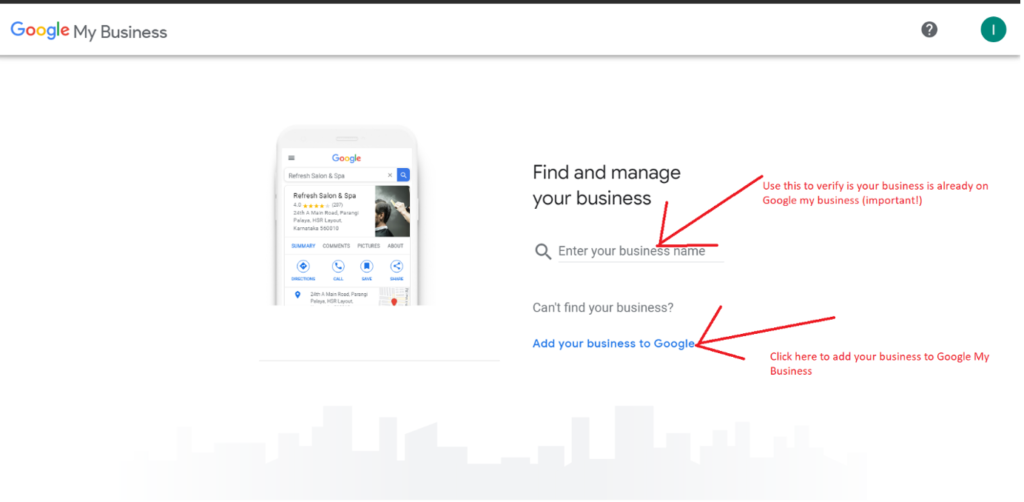 If your business doesn't exist on Google, you'll have to follow a few instructions to register your business.
Those instructions include entering your business categories and picking the services you provide.
2- Enter Your Address
Here, you have to enter your exact address for your physical location.
This is a crucial step because it will define most of your results.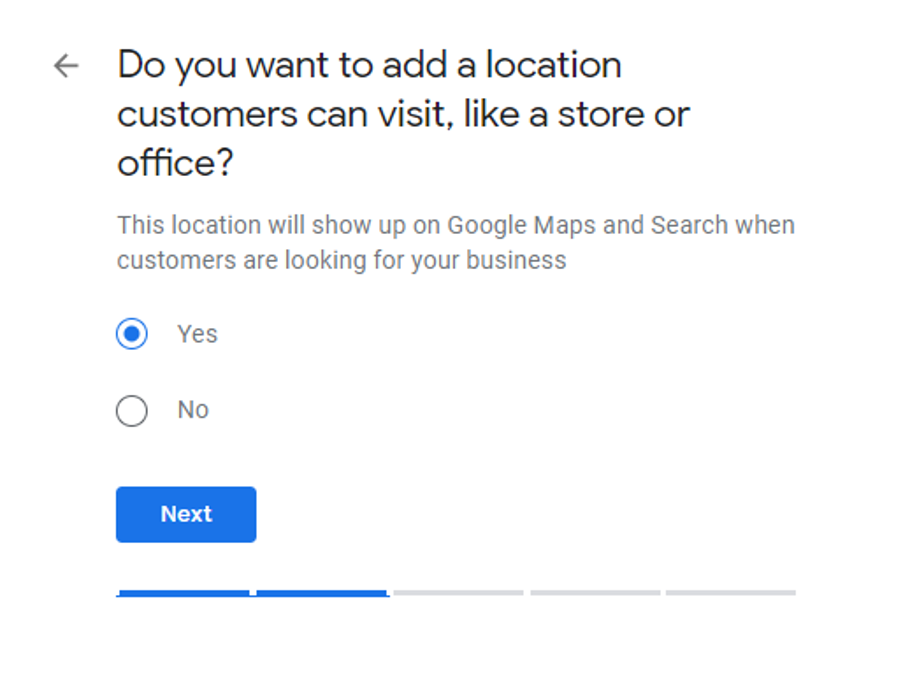 Make sure to provide an accurate address if you own a brick-and-mortar business. Also, the address needs to be consistent across the web so that Google knows you're a legit business.
We recommend that you copy-paste the address to a document for later use.

3- Enter Your Exact Location
This step is to confirm that Google has got your physical address right.
Most of the time, the positioning is right, but you have to check one more time just to be sure.
Place the marker in the appropriate position on the map.

4- Enter Your Phone Number and Website
Although this step is optional, we recommend that you complete it.
Enter your phone number and website URL (if you have one).
This helps Google identify your business online.
Also, your phone number will be shown to local customers when they look for your services.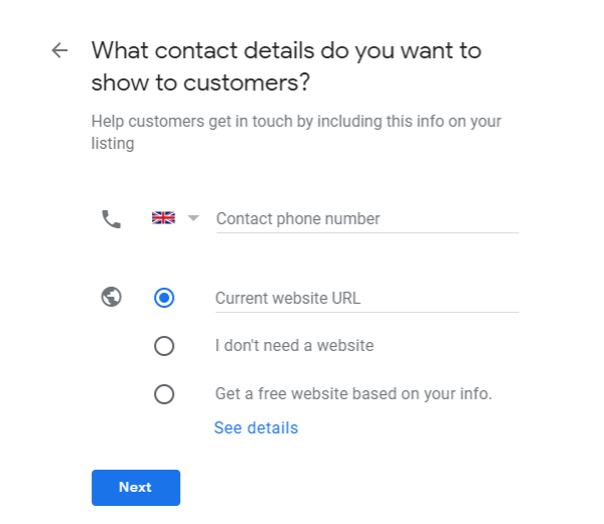 4- Verify Your Business
You can complete the verification by mail, phone, or even email.
You'll receive a phone call from Google after you finish listing your business. Or you may receive a postcard to your physical location within five days of creating your account.
For more information about this process, check out this support guide by Google.
The real work starts here
Once your business is verified, the real work has just begun. You need to fill in the rest of the information in your profile about your business.
Also, you must keep your business profile optimised with your latest information, as that makes it easier for local customers to find you.
4- Mobile Friendliness
30% of mobile searches are related to locations. And 78% of those customers end up completing an in-store purchase.
With Google doubling down on voice search in the next few years, those numbers are only going to grow.
What that means for companies is this:
Google will prefer websites that are responsive to mobile devices. If you don't optimise your website for mobile, you'll always be behind your competitors.
You can check the responsiveness of your website using Google's mobile-friendliness test.
Enter your website URL and wait for the result. Wait for a few seconds. You'll get your results telling you the status of your website. As you can see, our website is mobile friendly and fully optimised.

2- Build Local Citations
A citation is a mention of your business online that displays your business name, address, and phone number.
That information makes the main credentials of your company — they're also called NAP.
Google uses your NAP information to identify your business across web pages and business listings. And potential customers will find them useful once they decide to reach out to you or use your services.
To build citations for your business, you need to start from your website pages.
Make sure to include your NAP information on multiple pages on your website. After that, you can start submitting your business to popular business directories.
Some of the most popular ones are:
• TripAdvisor
• Yelp
• Manta
• LinkedIn
• Facebook
• Foursquare
• Yellow Pages
We already know Google takes proximity into consideration. So, it's also essential to get your business listed on local business directories.
Your NAP consistency is important.
As we mentioned earlier, Google will consider any information it finds on the web. And unfortunately, it may penalise your business for not having clear NAP information.
So, make sure to verify and update any incorrect NAP information about your business that you can find online.
3- Optimise for Local Keywords
There are three critical factors to keep in mind when researching local keywords:
• Location
• Search volume
• Search intent
Local keywords are long-tail keywords that include your service and geographical area.
For example:
"London plumber" or "Best plumber in London."
Using Google Keyword Planner, you can find related keywords that are specific to your location.
Build a list of quality keywords that have high search volume but are also low in competition.
Once done, use those keywords to optimise your website pages and the content you create.
4- Local Link Building
Building links has always been essential for global SEO, and local SEO is no different.
If you're serious about growing your business, you'll get to build some backlinks by submitting your NAP information to business directories.
And that's a good thing.
But, the problem with those links is this—
All your competitors are doing the same, and most of those links are "no follow links."
That's why you need alternative strategies.
Here are some techniques to try if you're looking to build local, high-quality links for your website:
• Guest posting on popular local blogs
• Getting booked for local podcast appearances
• Local newspaper
Want to build high-quality local links but don't know where to start? Check out our link building services for a better explanation for how we can help.
Conclusion
Local SEO is a powerful way for small businesses to dominate local markets and outshine the competition.
And the best part? It's budget-friendly and easy to implement.
So, what are you waiting for? Get on the local SEO bandwagon and start following the techniques we shared with you in this guide.
Need help getting started? Don't hesitate to our Digital Marketing Agency today!