LOCATION FACEBOOK ADVERTISING AGENCY
Location Facebook Campaigns That Deliver Results
Are you interested gaining more leads with Facebook ads? Look no further than Abel Media, we are a full-service Social Media Advertising Agency in Location! Facebook's advertising platform give businesses the ability to target their audience based on age, gender, "liked" pages, overall interests, and much more. These targeting features guarantee your ads are displayed to a highly targeted audience.
At Able Media your Facebook advertising is run by an expert team who researches your business and understands your unique goals. Just a few years ago businesses didn't understand the value of social media marketing. Today with Facebook possessing 2.2 billion users and millions of potential consumers using Facebook on a daily basis, business finally recognise the benefits of utilising a Social Media Ads Agency.
Our team of social media experts can craft you a social media campaign based specifically on your industry and business goals. Being that Facebook owns Instagram, we can also create an Instagram ad campaign and launch both marketing campaigns on each platform at the same time.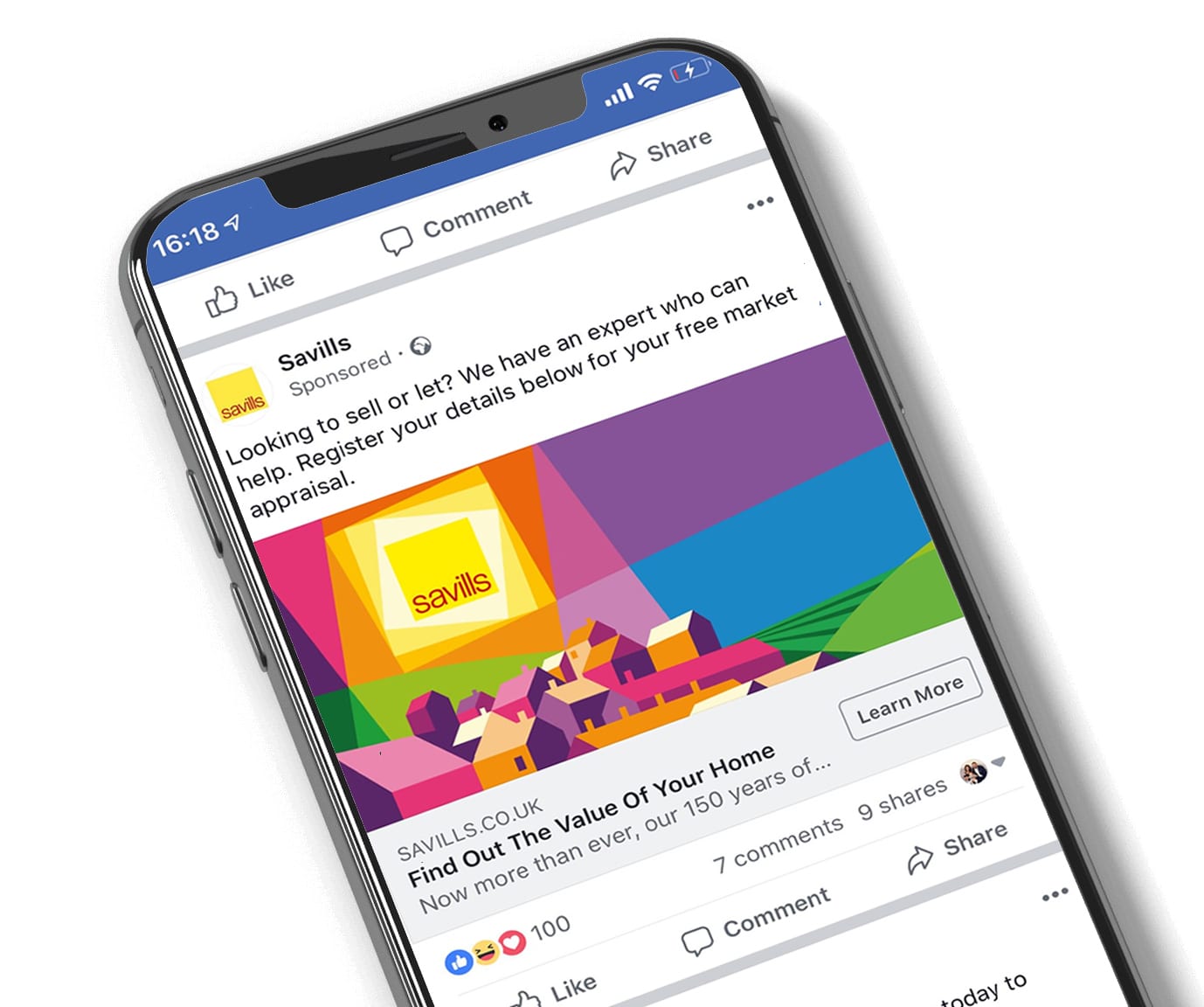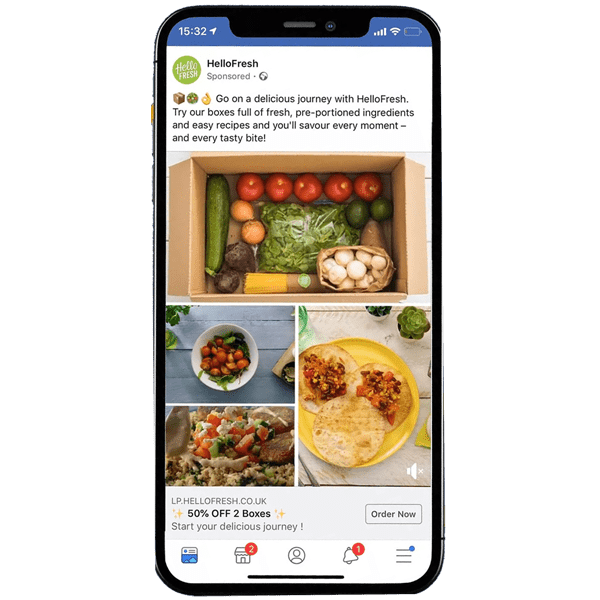 Facebook & Instagram Is A Great Place To Get Qualified Leads
Facebook and Instagram ads are a cost-effective marketing approach to grow your brand. The ads can appear on both desktop and mobile versions of Facebook and drive successful results for businesses of all size and industries. Able Media's Facebook ad experts can create you a specific ad campaign, that is highly targeted and has a greater conversion rate.
Each ad categories produces a different benefit depending on your approach and goal, here are just a few of the ad categories you can choose from to engage your target audience.
Post Engagement Ads
Website Conversions Ads
Event Ads
Offers Claims
Video Ads
Local Ads
A Carousel Layout Ad
Dynamic Ads
Slideshow Ads
SPECIALIST FACEBOOK ADVERTISING AGENCY
Acquire Customers In Ways Search Can't
With 2 billion people on the platform, Facebook can connect what we know about people with what businesses know about their most valuable existing customers—across their website, apps or stores—to acquire the most valuable new customers in ways that search can't.
Successful businesses know the consumer journey has changed too much to wait for people to come to them. Now, through Facebook's dynamic ads, products find people before people find products.
Capture attention and drive action all at once
People now expect engaging and seamless experiences on mobile, especially when connecting with a business. Facebook's ad formats are built for mobile, giving consumers a friction-free experience within their most-used apps—Facebook, Instagram and Messenger.
Grow your sales online and offline
There's no doubt mobile plays a critical role in purchasing decisions—45% of all shopping journeys include a mobile step. Facebook's end-to-end solutions, like dynamic ads and lead ads, are designed to grow sales from mobile online and offline. With offline conversions, marketers can effectively measure how their online ad efforts lead to offline impact.
 Location's Top Performing Facebook Ads Agency
Partner with a Location Facebook Advertising Agency who has a professional team and combined years of experience in growth-driven Facebook marketing campaigns along with a successful record of assisting businesses achieve online success with our social media management.
Our specialised team of social media experts work with our creative designers to deliver our partners with tailor-made Facebook Marketing Campaigns that drive results. We develop and implement effective Facebook ad campaigns based on your business unique goals. Our team will work with you to select the best ad format for your brand and then design them with persuasive content that attracts your ideal buyers.
By leveraging accurate audience targeting, we guarantee that your ads are being presented to individuals who are undoubtedly interested in purchasing your products. We are able to accomplish our goals with our team of experts who consistently record and monitor you marketing efforts, testing different ad components to optimise your performance and achieve the best results for your goals. Able Media is not only experienced  in Facebook ads, we can handle all your social media needs!
Optimized Facebook Advertising
Optimising Facebook Business page is the initial step to starting any social media marketing with Facebook. If you don't have one, don't worry, our experts can create you one! Our ad experts will measure and record your all your campaigns not only so you understand your marketing achievements, but so we can also work to improve your Facebook ad campaign. We can determine which strategy was most successful and what types of ad elements are most effective on your target market.
After our team goes through comprehensive tracking and investigation, we use the information we have gathered to test and make data-driven decisions about how to optimise your ads. We adjust your ad content, landing pages and other important ad features, based on the data we develop and your business goals.
At Able Media we not only strive to support each of our partners in optimising their Facebook Campaigns, but we also focus on maximise your return on investment. With the use of our Facebook advertisement optimisation, our team can guarantee that you are receiving the most out of your ad spend. We will present you with detailed reports with the results of our marketing efforts. Delivering performance details like how many clicks and leads were generated. If you want and high ROI and effect results for your Social Media Advertisements, contact Able Media today!
Able Media's Is The Top Facebook Ads Agency
Premium Location Social Media Marketing
Our Location Social Media Agency takes the time to get to know our partners, their business values and goals. We develop a custom-made approach to achieve your Facebook Ad and Digital Marketing goals. Whether you want to increase sales or boost your online presence; our Location Facebook Marketing Services can help. As a full-service Location digital marketing agency, Social Media isn't our only speciality. We can provide you with additional digital marketing services that can boost your Facebook marketing to another level.
As your partner and Location Ads Agency, we believe in reliability, quality, and truthfulness. We appreciate every partner we have and as a business we know how valuable time is. Because of this we ensure to deliver every one of our projects at the timeline we agreed upon. Not only do we provide premium results and deliver on time. We provide our partners with around the clock support. We encourage all our partners to schedule a call or meeting whenever they have a question or need additional information about the marketing campaign. Able Media isn't just any Ad Agency, we are your business partners.
Get The Best Results With Facebook Advertising
The Top Location Agency For Facebook Marketing!
With billions of users on Facebook it essential to get your product or service in front of those users today. Our Location Facebook Advertising Agency will manage your Business's Facebook Ad's to increase its exposure and reach your targeted market, but the possibilities are endless.
Here are a few of the reasons why Facebook Ads are so effective:
Cost-effective campaigns
Widespread visibility of campaigns
Measurable results
Drive Relevant website traffic
High conversion rates
Boost Organic Engagement
.
Social Media Marketing is thriving right now and will unquestionably continue to increase as time goes on. Facebook being the biggest social media platform makes it the most essential for your social media marketing, but it's not the only one.
As full-service location social media agency, we offer to manage any other social media platform, like Instagram, LinkedIn, YouTube and all the other major platforms. Our team can help you to figure out what works best for your industry and test different creatives, strategy, and targeting to improve your return on investment.
Our Location Facebook Ad Agency will make sure your ads are only shown on the platforms you want them to be shown on. Facebook owns Instagram and our experts can easily assist you with both platforms if you so choose. You can always adjust the placements whenever you desire by contacting one of Facebook Ad professionals.
It's essential to build a strategy if you want to be successful with Facebook Marketing. Our Location Social Media Agency makes sure we have a clear understanding of our partners and their business goals before we develop your personalised approach. Once we have discussed your marketing objectives, we can provide a number of different Location Facebook Advertising Services including:
Facebook Remarketing Ads- Remarketing ads are an efficient way to get your potential clients to interested in your products or services again. Our team designs a sophisticated remarketing campaign that will ensure web visitors return to complete a purchase.
Facebook Content Marketing- Content is a fundamental part in any social media marketing strategy. With Facebook's content marketing you can grow your audience, gain additional website traffic, engagement and page likes.
Facebook Ads for e-Commerce- If you have and e-Commerce site and are interested in our Facebook ads for Shopify, BigCommerce or other major online store platforms. Our Location Agency experts can help you achieve your goals, while still maximising your return on investment.
Paid SOCIAL
Make your Paid Social Ads budget work harder in 2021.
Get All Our Amazing Content to your inbox once a month
Sign up for industry updates, white papers, guides, training opportunities and much more straight to your inbox.